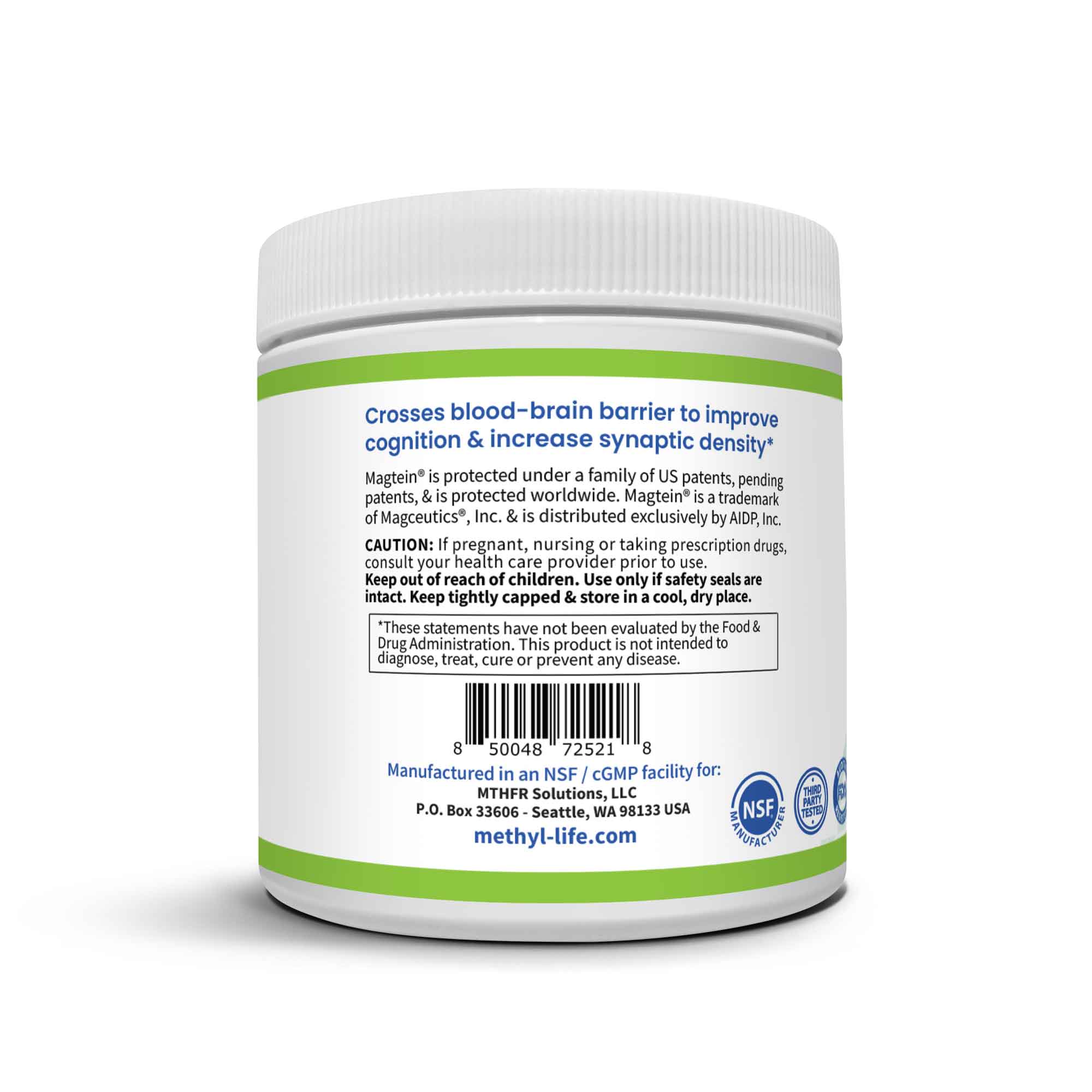 Description

SUPPLEMENT FACTS

Research

FAQ'S

Return Policy
Improve your brain function with Magtein® L-Threonate, proven to increase synaptic density which helps memory, attention and learning focus.  Methyl-Life® brings you Magtein® in its purest form, without a single additive, an odorless and tasteless powdered form of magnesium.  We've hand-picked this innovative and highly bioavailable version of magnesium designed to enhance brain function in four different ways:  1) attention  2) working memory (executive function)  3) long term memory and  4) short term (or episodic) memory.  Magtein® crosses the blood brain barrier and has shown stunning results in human as well as animal studies.  It is protected by 8 US & international patents.
Science Based Fact: Magnesium is an essential mineral and a cofactor for the COMT (Catechol-O-methyltransferase) enzyme, which is required to transfer a methyl group from SAMe to metabolize dopamine, norepinephrine, and epinephrine. Essential for healthy mood, cardiovascular function, and nerve function.
Magtein® recently demonstrated remarkable results in a human clinical study on dementia & Alzheimer's published in the Journal of Alzheimer's Disease.   It showed a meaningful increase of memory-related functions in the brain which represented a 9 year age improvement when subjects supplemented with Magtein® (5).  The study revealed that less synaptic density actually means more memory loss, which is why the mechanism of action for Magtein® seems to be so critical.  Magtein® essentially makes more synapses for the brain to use.  Synaptic density improves recall functions in the brain.  The findings concluded that as long as the nutrient was present, cognition got better, however, when Magtein® was removed from the participants' daily regimens, the synaptic density was reduced and the memory impairments returned.
The main side effects were a substantial reduction in stress and anxiety.  In an animal model, it was noteworthy to learn that Magtein® enhanced the control of fear-stress memory – the brain regions known to control stress and fear actually improved with the nutrient (prefrontal cortex/hippocampus) (3,4).  In a rat study Magtein® was also shown to increase the learning ability of young rats in addition to improving their working, short and long term memories (1,2).
Methyl-Life® is very excited to bring you this revolutionary new magnesium for your own cognitive enrichment!
_______________________
Publications:
Slutsky, L., et al., Neuron. 2010 Jan 28;65(2):165-77. One of the three most downloaded Neuron articles in 2010.
Li, W., et al., J Neurosci, 2013. 33(19): p8423-41.
Abumaria N., et al., Journal of Neuroscience 2011 Oct, 31(42:14871-14881).
G.A., et al., Pharmacol Biochem Behav. 2013 Mar 6;106C:16-26.
Guosong, L., et al., Journal of Alzheimer's Disease 49 (2016) 971–990.
SUGGESTED USE

:  Take 1/2 rounded teaspoon stirred into liquid or as your healthcare provider recommends.
| | | |
| --- | --- | --- |
| SUPPLEMENT FACTS | | |
| Serving Size: 2 grams (approx. 1/2 tsp) | | |
| 60 servings per container | Amount per Serving | % Daily Value |
| Elemental Magnesium (from 2,000 mg of Magnesium L-Threonate as Magtein®) | 144 mg | 36% (Total) |
OTHER INGREDIENTS

: None.

PRODUCT CONTAINS NO: wheat, gluten, soy, dairy, egg, fish/shellfish, sugar, yeast, nuts, ingredients of animal origin, caffeine, artificial colorings, preservatives or artificial flavoring, bisphenol-A (BPA), or phthalate.
---
What is the right dosage for me?

Most studies have found that 2 grams per day is effective for improving brain health by increasing memory recall, attention and learning functions.  And instead of having to swallow 3 capsules today, we've produced a form of the nutrient that you can easily stir into a liquid (and that has absolutely no additives whatsoever, it's just pure, 100% Magtein® only).
---
 Has Magtein® been proven effective?

Check out the published study in the Journal of Alzheimer's Disease [Guosong, L., et al., Journal of Alzheimer's Disease 49 (2016) 971–990].  There's great science showing how this nutrient affected cognition and memory function equivalent to a 9 year age improvement.

---
 How can I get more information on Magtein®?
Check out the additional studies that have been published and are demonstrating this unique mineral's profound effectiveness on the brain.
Slutsky, L., et al., Neuron. 2010 Jan 28;65(2):165-77. One of the three most downloaded Neuron articles in 2010.
Li, W., et al., J Neurosci, 2013. 33(19): p8423-41.
Abumaria N., et al., Journal of Neuroscience 2011 Oct, 31(42:14871-14881).
G.A., et al., Pharmacol Biochem Behav. 2013 Mar 6;106C:16-26.
Please Note
Before purchasing any of our products, Methyl-Life® recommends that you talk with a healthcare professional if you have any questions. Methyl-Life® cannot be held liable for adverse reactions or negative side effects that you think are the result of one of our products.
If you have not used Methyl-Life® products before, please consider ordering one bottle to start before making larger orders. We also recommend you read through our dosage and methylation protocol pages and consider starting with a lower dose product to ensure you tolerate the ingredients well before increasing your strength to a higher dose product.
It is also important to speak with your healthcare professional before purchasing. Methyl-Life® prefers not to accept returns for large orders. If you return three unopened bottles from a 4-pack purchase, you will receive a full refund minus the cost of one bottle charged at full price.
Within 45 days of your order, you can return any unopened item shipped to you by Methyl-Life® (as long as all seals are intact). Just let us know you plan to return the product by emailing us at: [email protected] or using the Contact Us form (please include the tracking information so we can be on the lookout for the package).
It will be your responsibility and cost to ensure the return parcel gets to Methyl-Life® (ship to: P.O. Box 33606, Seattle, WA 98133). We suggest you get a tracking number and consider insuring the package. After we receive your returned item, we will process your full refund within 10 business days and send you an email indicating your refund has been complete. Be aware that depending upon your institution, this may not be reflected in your account status for a few days.
If you have received the wrong item or your product has been damaged or is somehow defective, please email us at: [email protected] with detailed information or use the Contact Us form and our Customer Service Manager will address your concern(s) right away. Please do not throw any items away unless or until you are directed to do so.
---